1998: beginning January 1st and continuing thru December of that year, Lennie Mace undertook the quest of creating one AD LIB per-day, all year; driving the country, picking up media as he came across it and embellishing it along the way.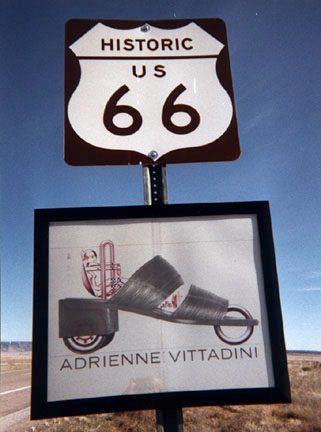 "Test Model" on Rte.66 sign
Arizona 1998
PHOTO: Lennie Mace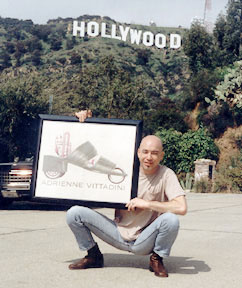 Lennie Mace w/ "Test Model"
Hollywood 1998 • PHOTO: Tom Stern
In all, the artist covered more than 30,000 miles during his 5+ "laps" around America. Some 300 hundred works were created in all (Mace averaged 5 "off" days per month), on-location in areas as varied as the canyons of Utah, embellishing his road atlas on the hood of his car, or his self-portrait as Mickey ("Mickey Mace/Lennie Mouse") as drawn directly onto his jeans at EPCOT Center.

The site, in America, of each drawing is always noted along the perimeter, at the tail end of a sequence of notations which includes a "pallette" of colors used, the date drawn, and Mace's graphic signature.